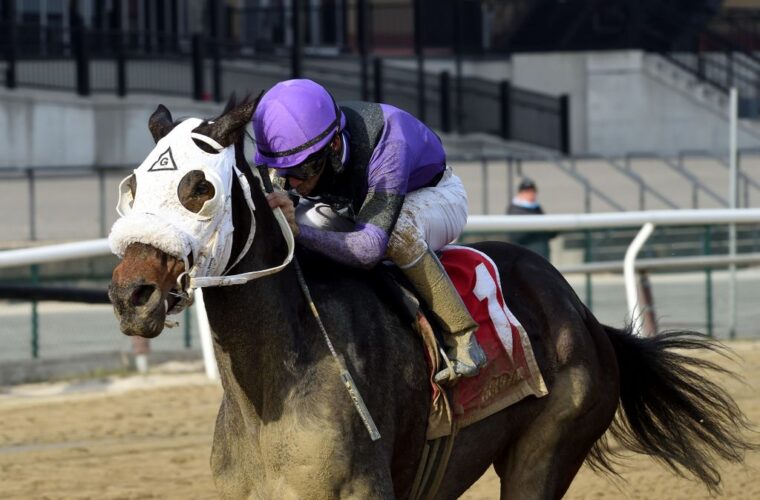 From the Daily Racing Form.
OZONE PARK, N.Y. – A year after losing a nose decision to Mrs. Orb in the Bay Ridge Stakes, Lucky Move turned the tables on that mare in Sunday's $100,000 Bay Ridge, beating her by a half-length in the race for New York-bred females at Aqueduct.
In a race run similar to last year's Bay Ridge, Lucky Move, under Kendrick Carmouche, surged by Mrs. Orb and Dylan Davis three jumps from the wire to get the victory. Last year, Lucky Move rallied from farther off the pace and made the lead a jump before and a jump after the wire, but not when it counted.
"I had that nose in mind from last year when I lost this race," said Carmouche, who rode Lucky Move in 2019 as well. "I knew they were going to go slow up front, I just had to sit and bide my time and hopefully my filly kicked with the other filly."
Last year, the half-mile went in 52.30 seconds. On Sunday, the half-mile went in 52.64 as Singular Sensation, under Manny Franco, set the pace, stalked by Mrs. Orb with Firenze Fire in third and Lucky Move last, but always within two lengths.
It took until inside the sixteenth pole for Mrs. Orb to wrest the lead from Singular Sensation. Carmouche waited as long as he could to really ask Lucky Move to run and, when he did, she responded to get there in time.
Lucky Move, a 6-year-old daughter of Lookin At Lucky owned by Ten Strike Racing and trained by Juan Carlos Guerrero, covered the 1 1/8 miles 1:56.54 and returned $4.40 as the second choice.
"My horse kicked really good for me and I just had to ride her home from there," Carmouche said. "She had me in a good spot the whole way."
The win was the seventh from 32 career starts for Lucky Move and her second straight stakes win, having also beaten Mrs. Orb in the Empire Distaff in October at Belmont.
Davis said he felt Mrs. Orb was in a good spot early on Sunday, but she had to work too hard to get by Singular Sensation in the stretch.
"She locked eyes with [Singular Sensation] and barely got by her," Davis said. "She's a steady grinder, once she gets there she kind of [eases] up a little bit and here comes [Lucky Move] on the outside."
It was the fifth straight second-place finish this year for Mrs. Orb, who is 0 for 6 since winning last year's Bay Ridge.
Mrs. Orb was second by 1 1/2 lengths over Singular Sensation. Firenze Freedom finished last. Kilkea and Sky Kitten were scratched.