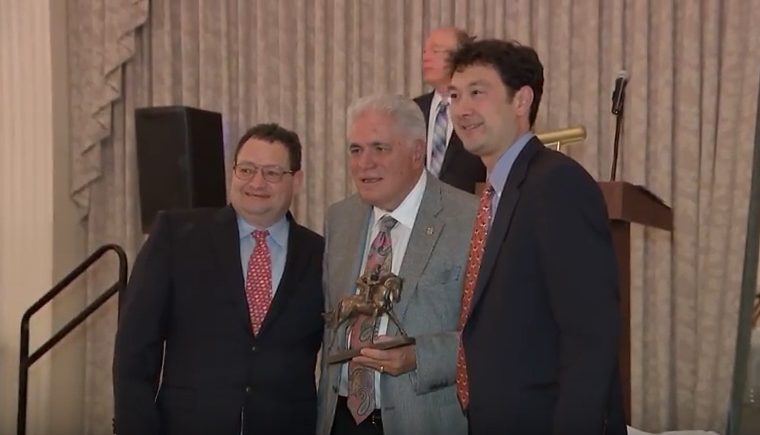 From Past the Wire.
Making the biggest wagering score of his life, Marshall Gramm, an economics professor at Rhodes College and a racehorse owner from Memphis, Tenn., nailed a cold exacta with Authentic and Improbable for $170,250 in the Longines Breeders' Cup Classic (G1) to propel him to victory last Saturday in the 2020 Breeders' Cup Betting Challenge.
The 12th annual Breeders' Cup Betting Challenge, Thoroughbred racing's biggest live-money tournament, held Nov. 6-7, featured 430 top horseplayers wagering on the two-day card of the 37th Breeders' Cup World Championships at Keeneland Race Course in Lexington.
Gramm, 47, finished with a total score of 170,250 points. Combined with his first-place prize of $322,500, Gramm had total winnings of $492,750. That put him ahead of second-place finisher Jonathon Kinchen, NYRA/Fox Sports television handicapper and analyst. Kinchen compiled 161,025.20 points, and combined with his second-place prize of $215,000, he had total winnings of $376,025.20. Dylan Donnelly, from Rancho Cucamonga, Calif., finished third with 136,200 points and $118,250 in prize money, for total winnings of $254,450.
In this year's BCBC, each player was required to fund a $2,500 buy-in and a $7,500 betting bankroll ($10,000 total). All buy-in monies were applied to the prize pool, making the total prize pool $1,075,000. Players made real wagers (win, place, show, exacta, trifecta and daily double) with their $7,500 bankroll on 22 races over the two days and kept all monies earned from their wagering.
A big sports fan who grew up in Washington, D.C, Gramm loved "numbers and statistics," and learned the handicapping game by reading books from noted racing journalist and author Andrew Beyer.
Gramm has played in the BCBC five of the last six years, registering his best finish in 2018, taking fifth place. He has been teaching economics at Rhodes College since 2000 and currently chairs the department. Gramm has taught a course at Rhodes called Economics of Racetrack Wagering Markets, which he describes as a class on "decision making, price discovery and probability." Along with Clay Sanders, he is also co-managing partner of Ten Strike Racing, a stable that has won 338 races, including stakes winners Dot Matrix, Long on Value and Warrior's Charge.
Gramm experienced a range of emotions when he learned that he had won the tournament. "When I hit (the exacta), I was thrilled, my biggest score ever. You know you've had a great day, but it was nerve-racking, and a relief, and I will always be able to say that I am a BCBC Champion."
In this year's BCBC, Gramm was in contention throughout. On Friday, he cashed a $600 daily-double wager on Vequist in the Breeders' Cup Juvenile Fillies (G1), followed by Aunt Pearl (IRE) capturing the Breeders' Cup Juvenile Fillies Turf (G1). Those bets earned him $17,350 and he closed out the first day of competition in seventh place.
On Saturday, Gramm went "all in" on Monomoy Girl winning the Longines Breeders' Cup Distaff (G1), wagering his $18,165 bankroll and more than doubling his money. After hitting on a minimum show bet in the Longines Breeders' Cup Turf (G1), Gramm went into the Longines Breeders' Cup Classic in 11th place with $36,930. In the climactic race of the World Championships, he made six individual exacta wagers using Authentic, Improbable and Tom's d'Etat. Gramm wagered $7,500 on the Authentic-Improbable combination and won the tournament.
Runner-up Kinchen had nothing but praise for Gramm. "Marshall is a dear friend and I am very happy for him. The BCBC is the Masters of handicapping contests. It's not all about the money, it's about the title. I wanted to win, but there are about three people in the world I am ok running second to, and Marshall is one of them."