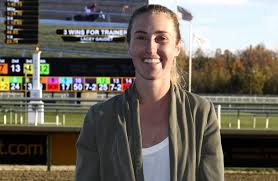 Lacey Gaudet is a thoroughbred trainer, born and raised in Maryland. She is a product of longtime Mid Atlantic trainers, Eddie and Linda Gaudet and while being brought up in the industry by her parents, her background in the sport includes working for trainers such as Helen Pitts, Thomas Albertrani, and Allen Iwinski as an assistant trainer.
Gaudet took over the family operation after her fathers retirement in 2011, which was highlighted by Concealed Identity, a multiple stakes winner who earned a berth into the Preakness Stakes. She takes a hands on approach with her stable being an Exersice rider herself and benefits from having her mother as her right hand in the daily operation.
In 2016, Gaudet had a breakthrough year on the Maryland racing circuit, finishing the Fall meet in the top 10 trainers, which included two stakes wins, her first three win day, and was topped off by a win in Gulfstream Park's Claiming Crown in December.