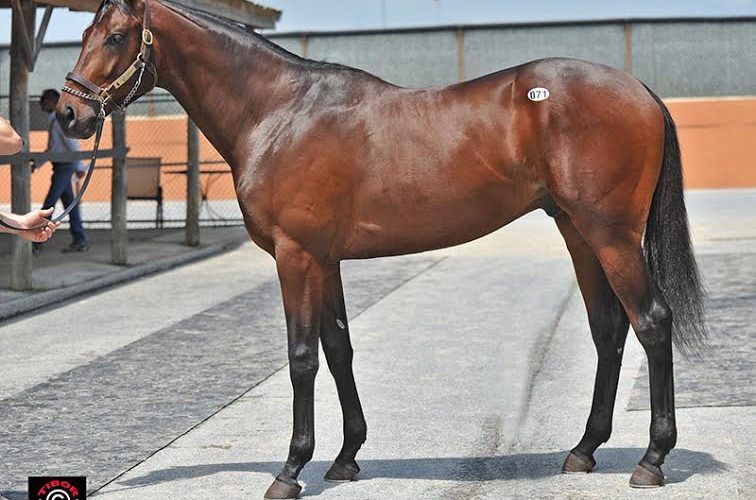 The thrill, excitement and joy of winning a horse race is what fuels the passion of Ten Strike Racing and its members. However, before that result can be achieved, the preparation and work put in by Ten Strike's team begins many months, sometimes years beforehand.
Ten Strike's agent Liz Crow has been traveling the country this spring hunting the sales grounds of the nation's largest thoroughbred auction houses for the ideal two year olds to match Ten Strike's racing program. With almost 4,000 two year old horses offered from February to June the crop must be narrowed down somehow. Crow has coupled her years of experience and success with a new cutting edge technology.
Founded by Dr. Dave Lambert, a pioneer and legend in the Equine Industry, Equine Analysis Systems is using several new technologies to help quantify and analyze different aspects of the horse that indicate success. Ten Strike utilized Equine Analysis Heart Scans for the first time at the two year old sales this year and believe it allowed them to find a future star. Crow and her team had compiled a list horses they believed exhibited the characteristics of a good racehorse, but it was the Equine Analysis heart scans that added the reassurance. In fact, it was a beautiful Candy Ride colt that not only got the attention of Crow as he breezed by. From a list of three horses Dr. Deborah Boehler scanned this colt's heart and found it to be in the top 3% percentile of all horses, giving it a score of 136 out of a possible 140. The report read: "This is an excellent result. As you can see, this colt gets a high Classic Heart Index or CHI number (the top number is 140) so this heart can clearly support winning the Classic races as a three-year-old (Kentucky Derby, Breeders Cup Classic, ect)."
About the heart scans, Crow explains "When at a two year old sale, there are a wide range of characteristics that I look for in a horse, such as conformation, pedigree, breeze time, economy of motion, and overall athleticism. With so many factors coming into play, the heart scans from Equine Analysis offer a quantifiable measurement of something that I cannot see, yet is so vital to the success of the horse. The team at Equine Analysis are experts in their field and not only measure the heart, but then analyze the data and compare it to the general population. This just equips me with another tool to make an informed decision for Ten Strike."
Ten Strike purchased the Candy Ride colt for $50,000 and he will be put in training with Brad Cox. He is a part of the AR3 Venture which consists of six two-year-olds.