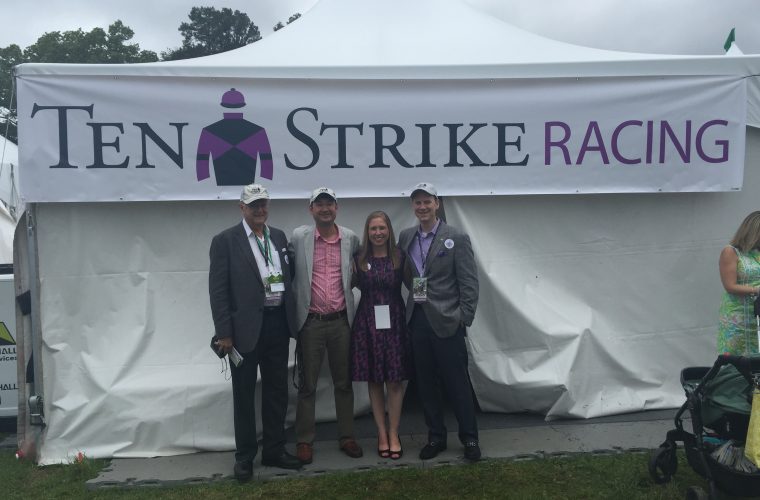 Thoroughbred Daily News article by: Lucas Marquardt
As the son of two economists, and an economist himself, Marshall Gramm was always going to have a knack for numbers. Now the 43-year-old is using his analytical skills to develop one of the most promising young stables in America…and to take a shot at the National Handicapping Championship in Las Vegas.
Gramm didn't make the cut for Sunday's final round at Treasure Island, but will compete in the consolation tournament. He is the co-owner of the racing partnership Ten Strike Racing, which maintains a 60-strong stable primarily with trainers Brad Cox and Juan Carlos Guerrero.
"I'm a horse owner and horse breeder because I was a player first," Gramm said Saturday from the auxiliary room at Treasure Island. "Really, it's made my career. I got tenured and became a full professor because of my research on horse racing."
Gramm, an economics professor at Rhodes College in Memphis, is the son of Phil Gramm, the longtime Republican senator from Texas. Growing up in Washington DC, Gramm didn't have any family connections to racing, save for an uncle who bartended at Longacres for a time, and would put down Derby bets for Gramm.
"Like all boys, I got into sports when I was young," he said. "But we didn't have cable [TV]. So my access to sports was reading the paper. There was a whole page with the racing charts, and I just really got into it. Andrew Beyer was our sports writer, so I bought all his books, and that led to reading other books on racing. By 10 or 11, I was hooked."
Gramm's favorite horse as a youngster was Timely Writer, the claimer turned four-time Grade I winner.
Racing and handicapping remained a passion through his college years, and he took a unique view to racing through the lens of an economist.
"I have 12 to 15 papers directly related to horse racing, using racing tangentially to look at economics," he said.
Next semester, he's even teaching a new course at Rhodes on the economics of racetrack wagering markets.
"As of today, I have 34 enrolled, so it's going to be one of the biggest classes at Rhodes," said Gramm. "It's basically going to be a handicapping class. Imagine teaching a class of students who don't know the difference between an exacta, furlong and gelding. I'm really excited about it, and I hope that spills over to my students."
As Gramm became established in the world of academia, he began to think about owning horses himself. In 2008, he tracked a filly named Aunt Dot Dot (Gulch) who was dropping into the claiming ranks. "She was bred by a guy I knew, Courtlandt Farm's Don Adam, and I was at a wedding a saw an old friend and said, 'Hey, we should claim this horse.'"
Gramm won a three-way shake for the filly at $5,000 and was immediately offered $10,000 for her. He declined, and bred the stakes winner Aunt Ellipsis (Successful Appeal) out of the mare, who is from the family of Chris Evert and Winning Colors.
Gramm's involvement snowballed from there. He began claiming more, though initially had limited success.
"I went 1-for-51 with my first starters," he laughed.
Gramm ramped up by forming a partnership with two friends called Mid-Atlantic Thoroughbred Investments, and then launched another partnership called High Point Thoroughbred Partners. The latter was a huge success. In 2013, High Point was the ninth-leading owner in the nation by wins, with 82 wins from 196 starters-a 42% strike rate. They were also the leading owner at Parx that year. High Point sent out to Claiming Crown winners, Goodtimehadbyall (Quiet American) and J B's Unc (Cactus Ridge).
On Jan. 1, 2016, Gramm formed another partnership, Ten Strike Racing, along with Clay Sanders, a Memphis-based bond trader originally from Arkansas.
Ten Strike picked up right were High Point left off. Last year, Ten Strike won 69 races, and again was the leading owner at Parx. Ten Strike's runners included the SW & MGSP Allied Air Raid (Midshipman), a Brad Cox-trained 5-year-old who ran second in the GIII Salvator Mile S. The 4-year-old Red Dragon Tattoo (Bellamy Road) was another stable standout. The gelding won his first three races for Guerrero by a combined 10 lengths before a last-out fifth in the Native Dancer S. at Laurel Jan. 21.
Recently, Ten Strike also privately purchased the Grade III winner I'm a Looker (Henny Hughes) with China Horse Club and Head of Plains; the filly will be trained by Cox.
Ten Strike has been active at the yearling and 2-year-old sales–Allied Air Raid was a $50,000 OBS June buy–and employs the Lexington-based Liz Crow as its racing manager and bloodstock advisor. (Crow also works with Brad Weisbord's BSW Bloodstock.)
"Clay and Liz focus on racing prospects and purchases, and I focus on the claiming operation," said Gramm. "But we all talk about it. We've spent more money recently, and we've bought a few horses with Sol Kumin. It's great to have that connection through Liz."
Asked about what sort of horse Ten Strike typically targets at the sales, Gramm explained, "Like everyone else, we want to buy routing dirt horses. We focus on Oaklawn, and look for horses that can be successful there. Most of our partners are from Arkansas, and we want to win at Oaklawn."
Gramm also targets Oaklawn as a handicapper during the spring, and focuses on Saratoga in the Summer. "I'll play every day when they run," he said.
Sitting among the hundreds of horseplayers in Las Vegas, Gramm echoed a common sentiment that there is too big a disconnect between the breeding and racing industry and handicappers.
"It was hard to watch the Eclipse Awards, because I feel like people lose site that it's the gambling that drives the sport," he said. "And that's where we need to grow the sport. I worry more about things that affect me as a gambler than I do about some short-sited views in the sport. I worry about new source-market fees in Ohio, Minnesota and Michigan, all of which will hurt horseplayers, and all for short-term gains for the tracks. My college students, they're too smart to play a game with a 25-30% takeout. It's a bad parallel, but it's like raising the tax on cigarettes. The people who are old and addicted pay, but no one starts because it's unaffordable. I think that's the problem we have right now."
If Gramm talks like an economist, he shows, too, that the humorless reputation that the "dismal science" is saddled with is undeserved. An example:
"Wesley Hawley has an owner named Smoot, and they claimed a horse off me," he related. "I tweeted about it and said, 'Former Ten Strike filly She's Acting Single is now trained by Hawley and owned by Smoot. Anyone get it? Anyone? Anyone (https://www.youtube.com/watch?v=uhiCFdWeQfA).'"