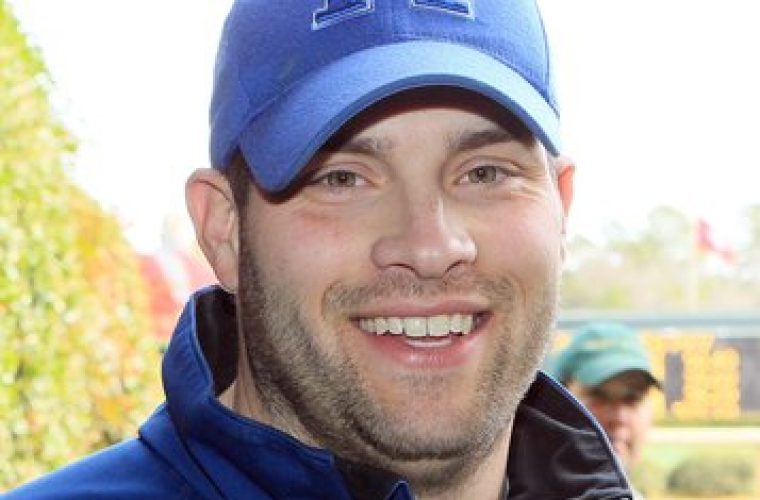 Growing up a couple blocks from Churchill Downs in Louisville, Ky., horse racing has enthralled trainer Brad Cox since early childhood. Working his way up through the industry, however, it didn't take him long to discover the commerciality driving the sport's brilliant excitement.
"It's a business, for sure," said Cox, 37. "It really takes a lot of organization (to be a trainer); I have lists on top of lists and I have to be really on top of each and every horse in my stable. I've also learned to appreciate all the people who work so hard to keep this operation moving forward every single day."
The current stable star is Abdullah Saeed Almaddah's Green Mask, recently an impressive winner of the Grade 2 Highlander Stakes at Woodbine. Victory in the "win and you're in" race earned the 6-year-old Mizzen Mast gelding an all-entry fees paid, automatic berth to the G1 Breeders' Cup Turf Sprint at Del Mar in November, a race in which he finished fifth in 2016.
"I think the five furlongs at Del Mar will suit him a lot better than the 6 ½ downhill at Santa Anita," Cox said. "He's really a very consistent horse, and he is performing very, very well right now. It's just a matter of keeping him happy through the rest of the year."
Cox's stable has experienced both growth and decline since the trainer took out his license in 2004. Midwest Thoroughbreds, the gargantuan racing operation of Richard and Karen Papiese, entrusted Cox with a significant number of horses early in his career. Twice, however, the owners made the decision to shift their horses to other trainers – perhaps because of Cox's determination to remain in Louisville for much of the year – and left the young trainer's stable struggling.
"I learned a lot during my time with Midwest," he said. "They claimed a lot of horses so I had the opportunity to practice the management of those horses, but ultimately it is a business decision."
That same determination carried Cox through the time of crisis; the trainer re-built his stable from just three horses up to the multi-location operation it is today.
"We just made small goals every week, and worked really hard to achieve them," Cox said. "First it was to pick up an owner or a new horse each week, then it was to win a certain number of races at Keeneland or at Churchill. When we reached those goals, we set new ones, and that's the same concept that has carried me to this point of my career."
From sneaking onto the backside at Churchill Downs to lying about his age to work as a hotwalker, Cox has always found himself drawn to the horses. All his free time as a teenager was devoted to learning about the sport: He studied past performances endlessly, developed pedigree concepts and even built an imaginary claiming stable. In 2000, Cox was given the opportunity to work as a foreman for trainer Dallas Stewart.
Stewart, himself a disciple of Cox's idol, Hall of Fame trainer D. Wayne Lukas, taught Cox about stable management. For nearly five years, Cox absorbed every modicum of information he could, from the communication with owners and racing officials to the level of detail required to provide each horse the best chance of success. He was rewarded with the opportunity to ride along as Unbridled Elaine won the Breeders' Cup Distaff, and to follow the colt Dollar Bill through the Kentucky Derby trail.
"I'm very grateful to Dallas," Cox said. "He gave me a chance when he didn't have to, and the lessons I learned working for him are a major part of my success. I got to work with a lot of really nice horses."
Organization is easily the most important lesson Cox picked up from Stewart, he explained, especially in terms of managing horses at four or five different racetracks. He spends a great deal of time on the phone each day, talking to owners, racing secretaries, and with each of his assistant trainers.
The process of rebuilding his stable left a permanent impression on Cox, and he is determined to continue to expand and improve his operation through those same organizational skills. While some trainers might be content with a relatively small number of horses, Cox enjoys continually pushing himself toward the next goal. Even his favorite hashtag on Twitter and social media displays his desire for success: #trainingwinners.
Cox laughs when he suggests wanting to train the next Triple Crown winner, but gives the impression that he isn't entirely joking.
"From what I've learned, no business is ever stable," he said. "It's either growing or shrinking, and I definitely prefer to be growing. I think the ultimate goal for a trainer is to be able to develop a 2-year-old into a really good racehorse—to take it from the beginning all the way to the top of the sport. We have a good group of babies this year, and we're hoping several of them will jump up and take us to the next level."
He may be driven, but he doesn't forget those who work hard every day to keep the operation afloat. Most of his dialogue is littered with "us" and "our" pronouns, as opposed to "I" and "me." And it isn't just those in his employ: his family is also a part of that collective unit working toward the next goal.
Cox's wife, equine veterinarian Livia Frazar, shares the trainer's passion for the sport as well as each animal in the barn. His two sons, 19-year-old Bryson and 16-year-old Blake, are also a major part of the business, spending much time around the barn and learning about the sport. Cox wouldn't dream of discouraging them from entering the industry.
"They both seem to really enjoy it," he said, pride shining through his words. "I think they both want to work in the industry, and I will try to help them be as successful as possible in any way I can."
For now, Cox is hoping to take his sons on the same journey he enjoyed with Stewart: a victory in the Breeders' Cup. Green Mask has been recording some of the best performances of his career in recent months, and has not finished worse than second in his six starts since December.
"Right now, I think he definitely represents our best opportunity to get a Breeders' Cup win," Cox said, then smiled. "Of course, I'd like to have a couple of juveniles heading out that way to join him in November!"
by Chelsea Hackbarth | 07.12.2017 | Paulick Report
Read more here on www.paulickreport.com