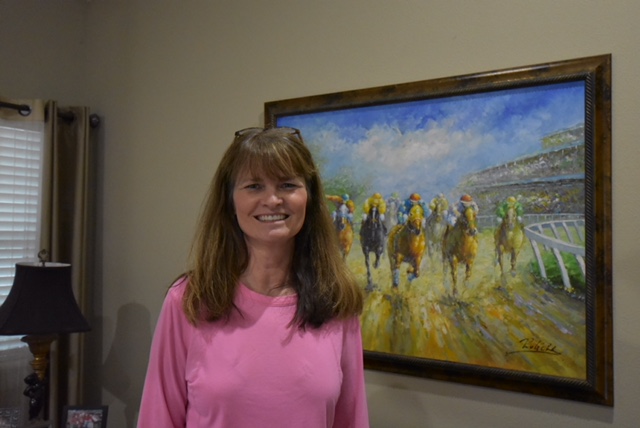 Written By Eric Wing, December 5, 2017
Of the 128 entries that left the starting gate for last Saturday's $78,729 cash game at HorseTourneys, Tanya Taylor, in hindsight, had to be among the least likely winners—at least as of the start of the day.
That is no knock on the Little Rock, Arkansas, resident's handicapping acumen—which is considerable—but rather a function of her decision earlier that day to only play in the game if she won a $695 entry for it in that morning's Early-Bird, $78 feeder.
"I don't consider myself a big gambler," admitted the 54-year-old physical therapist, who will be playing in her third straight NHC next February, and has qualified for the BCBC a couple of times and The BIG One once, but hasn't really played in many high-stakes cash games.
Still, with it being opening day at Gulfstream and Cigar Mile Day at Aqueduct, Taylor knew it could be her kind of day.
"I like to play on days when horses I like are running," she said. "I keep a watch list and on big days like Saturday, I know the horses are really trying. Lower-level claimers are not my thing. Sometimes those horses need a race or are being given a race."
The contest day started early for Taylor, with her last-minute feeder commencing at 10:30 am local time. When her pick in the Aqueduct opener, Memories of Peter, registered a victory at 2-1 odds, Taylor was pleased, though she knew that win guaranteed nothing. After the first at Gulfstream, though, things got considerably more exciting.
"There was a first-time starter in there going long on the grass named Ms. Peintour," said Taylor. "She was by Paynter, which I liked. And the trainer stats I was looking at said that the trainer [Lilli Kurtinecz] had run four horses going first time grass and had a winning percentage of 50% with a $10.00 R.O.I. I said to myself, 'This fits perfectly.'"
Clearly, not many others handicapped the race as Taylor did. Ms. Peintour went off at 65-1, and when she won, her believer in Little Rock had a max win/place payoff of $64.00 that basically assured her of the top-10 finish she needed for a $695 spot in that afternoon's big-money game.
Her early objective now completed, it was time to study up on the later races.
Her first 10 picks in the 15-race final were solid but not remarkable. With five races to go, she was in 25th place or so. But no giant prices had come in, so it was a pretty bunched up field.
In the 11th at Gulfstream, the Claiming Crown Jewel, she was torn between a pair of longshots—16-1 Flowers for Lisa and 29-1 Diamond Bachelor. Her initial pick earlier in the day was Flowers for Lisa. Then when she saw the big odds on Diamond Bachelor, she switched the pick to him. As the horses began to load, though, thoughts of her sister (and frequent companion to Oaklawn Park) Meleah came to mind.
"My sister thinks my first thoughts are my best thoughts," Taylor said. "When we're at the races together, she won't ask me who I like. She'll say, 'What was your first pick?' She jokes about wanting to play in contests just using first choices that I switch off."
As the Jewel field loaded, Taylor thought about her sister's good-natured ribbing and decided to switch her pick back to original selection Flowers for Lisa? But would there still be time?
She toggled to the selection page as fast as she could and, thanks in large part to the large, 12-horse field, she got the pick switched in a nick of time. Two minutes later, Flowers for Lisa won the Jewel (Diamond Bachelor finished third) and the payoff of $35.80 to win and $16.40 to place catapulted Taylor all the way to seventh place.
There were now four races left, all from Los Alamitos, and after two of those races, she was up to fourth. Then came race 7.
"I was excited about the last two races because I knew the two I liked had odds," Taylor said, referring to a pair of longshots. "One was Krsto Skye in the 7th. This was a horse I had played before, and I liked that Stewart Elliott was jumping on board for this race. I thought he had been riding well of late. He was 20-1 in the morning line but got bet down early to 7-1. Fortunately he floated back up."
Neither Elliott nor the toteboard let Taylor down. Krsto Skye won and paid $28.20 to win and $10.20 to place. Taylor was now in first place by $11.80. Would the lead hold up?
The final-race horse that Taylor originally liked was 49-1 shot Empress of Love. But would playing such a horse make sense now that she was in the lead?
"I saw the odds and thought to myself, 'She's not going to do anything.' But I thought about it some more and figured that if anyone other than the first or second choices won, I'd probably lose. So I stuck with her. She wound up running a creditable fourth."
Taylor watched the race at home with her two dogs, including Max, who likes to hoot and hollar right along with his master when she is cheering a horse home. (Max gets extra excited, according to Taylor, when it's Trevor Denman calling the race. She's says he really likes his voice.)
Happily for Taylor (and Max), the two favorites–numbers 1 and 4–opened up a big lead turning for home, and that's the way they finished. No one near Taylor in the standings had either horse, and she was home free—the winner of $35,428.
"I was so excited. This is my very first one," Taylor said of her big contest win. "I'd won seats before to the BCBC, which is worth $10,000, but nothing like this."
The immediate future holds great excitement for Taylor. In addition to her NHC appearance next February, she enjoys following the four horses she owns in partnership via Ten Strike Racing. The quartet includes a pair of Brad Cox trainees — Pioneer ofthe Nile 2-year-old Take That for Data and recent Churchill Downs winner Cheponara.
She also expects to continue playing the races enthusiastically on weekends, and to continue playing tournaments online.
"It's easier for me," she said. "I'm used to the $2.00 win/place format."
She does see one potential change in her routine going forward, though.
"I guess I might start playing in more cash tourneys," Taylor said with a laugh.