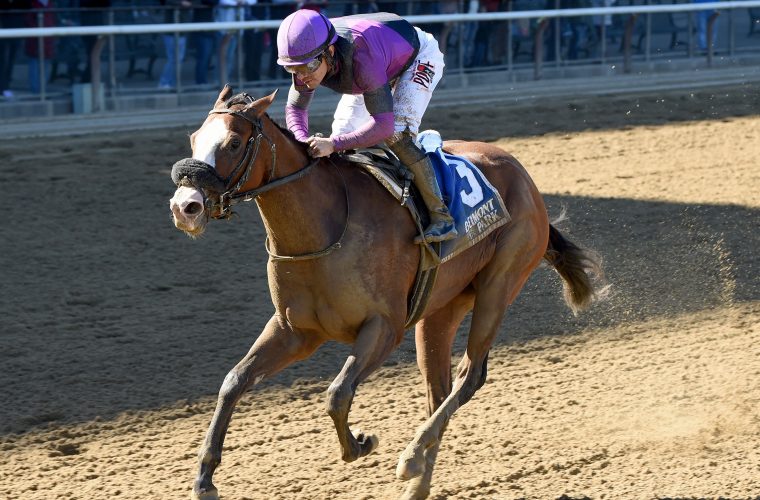 Previously posted on thisishorseracing.com
April 7, 2020
Tom Law
Marshall Gramm and Clay Sanders didn't expect too much when they sent Critical Value to Jeremiah Englehart's string at Saratoga Race Course last spring.
The daughter of Bodemeister hadn't shown a lot during her days growing up in New York and her lack of pizzazz continued during training in Florida in early 2019. Gramm and Sanders perhaps had license to not dream overly big for the filly they bred out of a mare whose racing career ended with an injury in a $5,000 claimer at Delaware Park. (Editor's note: This profile appeared in the New York Thoroughbred Breeders' commemorative program honoring the 2019 champion New York-breds.)
Still, Critical Value landed in New York even though her owners and breeders didn't expect her to sniff the NYRA circuit.
"She's by Bodemeister so we spent a little bit of money to get her," Gramm said. "We bred to Bode when he was at $30,000 but then she had all sorts of issues from Day 1. At one point we were told to give her away, that she wasn't going to make it to the races.
"We send most of our horses to Jeremiah, our homebreds that we think are promising and horses in our partnership. Steam Engine, who is a half to Critical Value, he's in the same partnership as Warrior's Charge, who won the Razorback for us. We would have put Critical Value in one of those partnerships but we didn't want to screw our partners with a horse that no one thought that much of. We sent her to Jeremiah thinking Finger Lakes. You want to protect the mare, get a win."
After arriving from Paul Sharp in Ocala in May, Critical Value fared well in her early training with Englehart during the "offseason" on the Oklahoma Training Track at Saratoga and later as the summer meet approached. She didn't do enough to earn one of the 22 spots on Englehart's Fasig-Tipton Stable Tour that appeared in the Opening Day edition of The Saratoga Special.
Still, Critical Eye trained forwardly enough to earn a spot in the entries, at Saratoga and not 200 miles away at Finger Lakes. She ran well in her debut, finishing a fast-closing second by a nose to stablemate Thea's Theme – who did make the Stable Tour but was not among the finalists for champion 2-year-old filly – before breaking her maiden in her next start Aug. 29.
Gramm admitted that his opinion changed after the Saratoga win.
"We thought, 'Oh my God, we have something here,' " he said.
Critical Eye showed again she was more than just something and added the Maid Of The Mist Stakes on Empire Showcase Day in mid-October.
"Once she broke her maiden, even running second that first time, we felt like we were playing with house money," Gramm said. "She's not the prettiest to look at. She's developed quite a bit, she's not the prettiest mover, but she tries really hard. In the Maid Of The Mist she did things on her own time. It looked for a while like she was going to fade and finish last, when Junior (Alvarado) asked her she started going a little backward into the field, then she got her legs under her and accelerated."
Gramm and company raised their opinions once again and aimed even higher as Critical Eye turned up in the Grade 2 Demoiselle at Aqueduct in December. She finished fourth, not disgraced but a half-length from a coveted graded stakes placing.
"At that point you start dreaming. We knew we had a filly that has potential for residual value so we went into the Demoiselle thinking we could get a little blacktype. Irad (Ortiz Jr.) was on her, he even admitted that he could have, had he not tried to win. Of course you're always trying to win, but he sat second, went after the leader and got caught at the end for third."
Critical Value, beaten 4 3/4 lengths for the win by Lake Avenue, put a cap on her 2-year-old campaign and spent at least part of the winter at Oaklawn Park while looking to start her 3-year-old season.
"Every start she's made is much more than we could have expected," Gramm said. "The fact that she pursed $211,000, we're getting breeders' awards for that, all for a horse we had low expectations for is exciting. She's in training now, had a couple setbacks and hopefully will have a big year and take another step forward. It's been fun with her."
Foaled at Keane Stud in Amenia, Critical Value is the fourth foal produced by the Forestry mare See The Forest. The first three are winners, including New York-breds Backstretch George and Steam Engine. Her first foal, the now 7-year-old Jump Start gelding Grit'n'grind, remains in training with earnings of $204,366 through early March.
See The Forest is the dam of a 2-year-old Munnings filly named Eight And Sand and has a yearling colt by Midnight Lute. She was in foal to Goldencents and was scheduled to be bred to Blame in 2020.