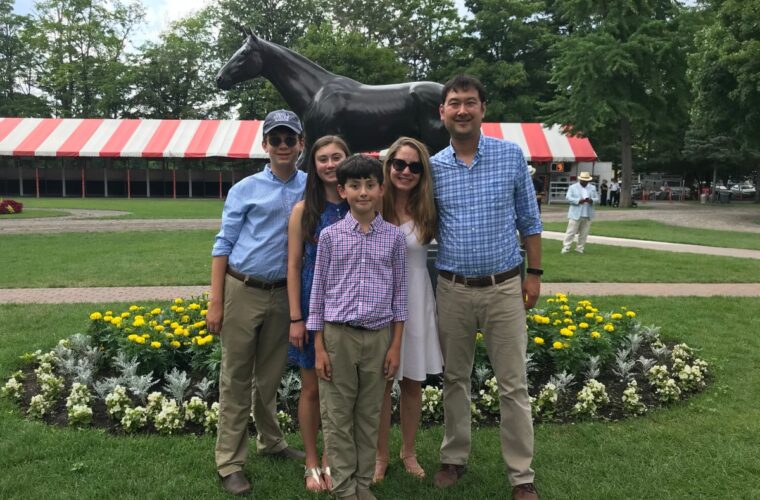 From Bloodhorse:
The economics of horse ownership and playing the ponies are uphill battles, with owners strapped by the high cost of training fragile Thoroughbreds and horseplayers pitted against a takeout significantly higher than sports wagering.
Yet Marshall Gramm, an economics professor at Rhodes College in Tennessee, is realizing sizable returns in both endeavors. Gramm collected $492,750 by winning the Breeders' Cup Betting Challenge contest in November, and the racing partnership he heads with co-founder Clay Sanders, Ten Strike Racing, surpassed $3 million in earnings in 2020, including partnerships with outside owners.
In total, Ten Strike had 65 victories from 332 starts, connecting at nearly a 20% strike rate. The partnership recorded wins with 12 different trainers at 16 different tracks, notching nine stakes wins.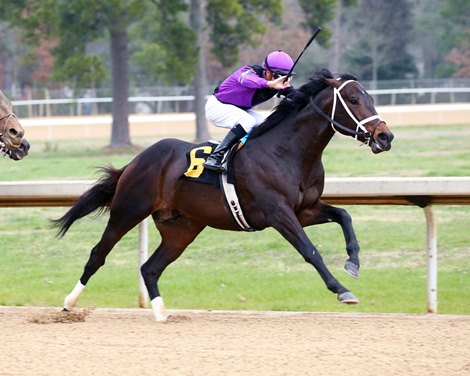 Graded stakes winners for their stable included Dot Matrix, winner of the John B. Connally Turf Cup Stakes (G3T), and Warrior's Charge, winner of both the Razorback Handicap (G3) and Philip H. Iselin Stakes (G3).
Additionally, other 2020 stakes horses owned by Ten Strike Racing, either solely or in partnership, have flourished over the past month, including Portal Creek, who came within a neck of capturing the Go for Wand Handicap (G3) when second at Aqueduct Racetrack Dec. 5; Lucky Move, who triumphed in the Obeah Stakes and Empire Distaff Handicapbefore taking the Dec. 13 Bay Ridge Stakes at Aqueduct; and Whereshetoldmetogo, who notched his fourth black-type win in taking the Dec. 26 Dave's Friend Stakes at Laurel Park.
Gramm's accomplishments, both as a horseplayer and owner, might be compared to owning Netflix and Amazon stock in today's marketplace.
The results could not have come for a bigger fan of the sport. Gramm, whose passion for horse racing began as a gambler after reading handicapping books authored by Andrew Beyer, regularly participates in horseplayer contests in addition to his active involvement as an owner. He has played in the BCBC five of the last six years, with his best finish being a fifth in 2018 before winning it in the fall.
"To win is kind of legacy-making for me, since I'm kind of known as an economist and a horse owner, and I think of myself as a horseplayer first," Gramm said. "It's important that my original attachment to the game is through being a horseplayer. Everything else is secondary. My interest in horse ownership is only in part enabled by being a horseplayer. My love of horse racing came from betting first."
From that love evolved an interest in ownership, though his first venture was not an immediate success. Seeing a pedigree he liked in a Gulch mare named Aunt Dot Dotrunning for a $5,000 tag in claiming race in August 2008 at Philadelphia Park, which is now known as Parx Racing, he and some friends made arrangements with trainer Donald White to claim her with the intention of ultimately making her a broodmare.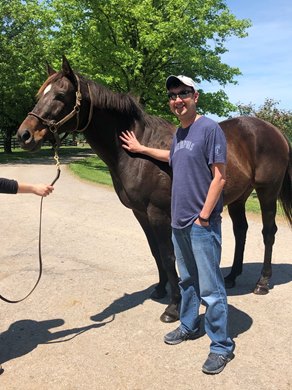 White needed to win a three-way shake to acquire the filly, and after he won the shake, another owner immediately offered $10,000 for her, Gramm said. The offer was declined.
Before she was retired, she lost all eight of her subsequent starts at higher claiming and starter allowance levels, only once finishing in the money.
"A wise man would have taken that money, taken the $5,000 profit," Gramm said. "But we ended up keeping the mare and winning that three-way shake and turning down that money sort of made all the difference. She's had two stakes winners, including Dot Matrix, who I still own and has earned over $650,000 and is a grade 3 winner.
"In part, just pure luck, the first horse I claimed turned out to be this nice broodmare. And what I thought was a nice pedigree at the time, I wouldn't think so now. She's for me the foundation of all this."
From there, his ownership operation grew, with he and Sanders claiming horses together in 2010 after a chance meeting when Gramm spoke economics to a group of charter financial analysts, of which Sanders was an attendee. Sharing a common interest in horse racing, somewhat rare for two individuals living in Tennessee, where there is no live racing, they became fast friends.
"It's like you're both members of the same cult," Gramm said.
They would become partners in High Point Thoroughbred Partners, the leading owners in 2013 at Parx Racing and Monmouth Park. The group was also the ninth leading owner by wins in 2013 throughout North America.
Eventually, he and Sanders pursued other partnerships, buying stakes in horses in racing ventures managed by bloodstock agent Peter Bradley. The 2014 female turf champion Dayatthespa was one runner in which Sanders was a partner.
Through their association with Bradley, Sanders and Gramm met Liz Crow, who had joined Bradley Thoroughbreds as director of racing after graduating college. Now a rising star in the bloodstock industry, she was still establishing her career just five or six years ago.
Sanders and Gramm spotted potential in Crow, who purchased eventual stakes winner Allied Air Raid for them when acting on behalf of Bradley Thoroughbreds, the owners said. Allied Air Raid, a son of Midshipman, was a $50,000 purchase from the Paul Sharp consignment at the 2014 Ocala Breeders' Sales June 2-Year-Olds and Horses of Racing Age Sale.
More buys followed, and Crow would become the stable manager and bloodstock agent for Ten Strike Racing, formed by Gramm and Sanders in 2016.
"Really, I was completely an unknown factor, as was (trainer) Brad Cox at the time, and they really put a lot of faith in me and encouraged me to go out on my own, made me think I could do it," Crow said. "Really, without them, I'm not sure I would be where I am, to be honest. You need somebody to say, 'Yeah, you can do this. Go out and do it on your own, and we'll be there to back you. You can book our mares, and you can buy us a couple of yearlings.' It gave me the confidence I needed to take that leap."
Though Crow now has a far longer list of clients, she remains committed to Ten Strike Racing, group chatting with Gramm and Sanders daily and texting them more than 10 times a day as they plot races and communicate with the dozen trainers they employ.
The most well-known of those trainers is Brad Cox, whose barn has grown in scope and quality since Ten Strike began employing him about five years ago. At the time Cox had 20-30 horses, Gramm and Sanders said. Now he has one of the largest stables in the country with strings this winter in Kentucky, Florida, Louisiana, Arkansas, and Texas.
During their first meeting, Sanders recalled how the Kentucky-based Cox possessed a keen knowledge of their horses, primarily claiming runners in the Mid-Atlantic at that time.
"He could tell you what (race classification) condition they were, who trained them. They weren't even on the circuit he was training on," Sanders said. "His dedication and obsessiveness with horses—in other areas of my life, I've always known uber-successful people to be obsessive with their craft, and you could tell right away Brad was one of those people."
As Cox has become more in demand, training more high-level runners, including some for Godolphin and Juddmonte Farms, Ten Strike Racing understands some of its horses might need to go to other trainers, some of whom are on smaller circuits. Some are young, ambitious trainers like Brittany Russell, Matt Shirer, and Jason Barkley, and others offer more experience, such as Randy Matthews and Juan Carlos Guerrero, trainers Gramm describes as almost like family to him.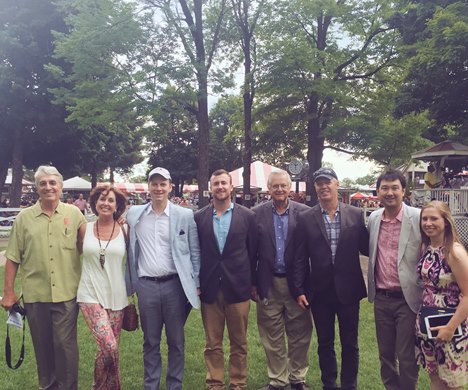 Crow communicates with Ten Strike's trainers, though Sanders and Gramm also do so. The owners are also keen to take her advice, though they admit to having made one error after speaking with her years ago. The agent had bought prospects during the 2016 Keeneland September Yearling Sale, and they and other clients analyzed her presented offerings. Calling themselves pedigree snobs, Sanders and Gramm said they chose an Uncle Mo  filly that didn't work out, while another one of the yearlings, a Tapizar  filly, went to the partnership of Michael Dubb, Sol Kumin's Monomoy Stables, The Elkstone Group, and Bethlehem Stables.
That Tapizar filly became champion Monomoy Girl, a winner of $4.4 million who sold at The November Sale, Fasig-Tipton's premier breeding stock sale, last year from Crow and Bradley Weisbord's ELiTE Sales consignment for $9.5 million. Monomoy Girl remains in training for Spendthrift Farm with Cox at Fair Grounds Race Course & Slots.
Gramm later bet on Crow and Cox in the BCBC, which included $322,000 in prize money in addition to the more than $170,000 he won in the live-money tournament over two days. The Cox-trained and Crow-selected Aunt Pearl was a day-one play for Gramm in the Breeders' Cup Juvenile Fillies Turf (G1T), and the next day, he went "all in" on Monomoy Girl to win the Longines Breeders' Cup Distaff (G1). He liked their merits as a handicapper, though admits his faith in Crow, Cox, and the other connections in their patient, Distaff-focused management of Monomoy Girl left him feeling she was poised for a peak effort.
Both prevailed, leaving him in a position to aggressively play sizable exactas in the Longines Breeders' Cup Classic (G1), focusing on Authentic , who he envisioned as a threat to steal the race, with Tom's d'Etat  and Improbable.
Authentic and Improbable ran 1-2, and Gramm edged friend Jonathon Kinchen for the BCBC title. He acknowledged the stars were aligned for him on the final day.
"Monomoy Girl got a great trip and Swiss Skydiver stumbled, and Authentic got loose on the lead," he said.
He savored the victory at home with his wife and family in Memphis, not attending the Breeders' Cup due to COVID-19.
"We had greek takeout and watched 'Ferris Bueller's Day Off' with the kids," Gramm said. "Hell, I didn't even crack open a bottle of whiskey. It was a regular Saturday night at home."
The movie choice was apropos. As Ferris Bueller opined during the film, "Life moves pretty fast. If you don't stop and look around once in a while, you could miss it."