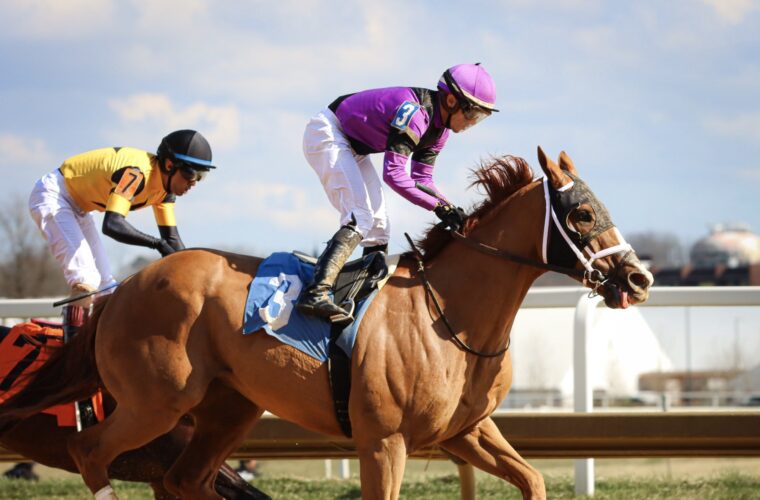 From the Bloodhorse:
Multiple stakes winner Whereshetoldmetogo , scratched as the program favorite from the $75,000 Howard and Sondra Bender Memorial Stakes Nov. 25 at Laurel Park, has been retired from racing, according to trainer Brittany Russell.
Bred in Maryland by David Wade and campaigned by Madaket Stables, Ten Strike Racing, Michael Kisber, and BTR Racing, the 7-year-old El Padrino  gelding retires with 17 wins, 13 in stakes, and $967,795 in purse earnings from 37 starts.
"The horse is doing fine and he's going to have a great second career," Russell said. "He just wasn't 100%, so we weren't going to run him. We said this is the time, unfortunately. He's going to be 8 years old. We wanted to get to a million (dollars), but he doesn't owe anyone anything."
Whereshetoldmetogo, out of the Domestic Dispute  mare Undisputed Legend , competed for Russell over the second half of his career, recording 10 wins, nine of them stakes victories, in 17 starts for the trainer.
"He's given the partnership a lot of thrills, all the stakes that he's won," she added. "There's a lot I feel like he deserves, but at the end of the day you have to take care of the horse first. That's where we are."
Seven of Whereshetoldmetogo's stakes wins came at Laurel, including the 2020 Frank Whiteley Stakes and Dave's Friend Stakes, 2021 Not For Love Stakes and Bender Memorial, and the 2022 Not For Love. Earlier in his career, he raced for trainer Anthony Pecoraro, winning stakes and finishing a close second to grade 1 winner Firenze Fire  in the 2018 Gallant Bob Stakes (G3) at Parx Racing.
Russell said Whereshetoldmetogo will join Dr. Allison Marshall, an equine chiropractor based in Mechanicsville, Va., near Richmond, and begin working toward his second career.
"Everybody thought he was going to run the other day, so when I called her and said he's officially retired, she was like, 'Oh my gosh. I wasn't expecting that.' And I was like, 'Neither was I,' " Russell said. "He'll probably stay with us for another week or so until they get all set up. He's going to become a show horse for them."
Until that time comes, Russell is more than happy to keep Whereshetoldmetogo around.
"Just having him in the shedrow, it's going to be sad to see him gone," Russell said. "The ultimate goal was always to see this horse retired healthy and have a great life. He's earned a lot of money, he's done a lot of racing.
"He's awesome. He's like, 'Whenever you want me to do something, let me know.' He'll just have a little bit of time off and really they can just rock on and get him training in what he's going to be doing now. He wants a job."