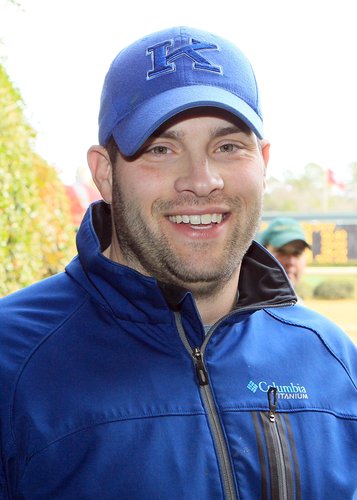 Cox grew up a few blocks from Churchill Downs and earned an advanced degree in racing education under the famed Twin Spires (though one might think he was a graduate of the University of Kentucky with all the athletic garb he wears regularly). He broke into the game working for trainers Burt Kessinger and Jimmy Baker before landing a job as assistant to trainer Dallas Stewart. His five-year stint there indoctrinated him to the revolutionary training program pioneered by D. Wayne Lukas and has been passed down through former assistants like Todd Pletcher, Kiaran McLaughlin and Stewart.
Once setting out on his own in 2005, Cox needed to be sharp to get established with a small stable. He identified Oaklawn in 2009 as a place to build momentum and get rolling with horses he picked out through claiming races at the end of Churchill's fall meet. Since then he has been a solid force in the trainer standings at Oaklawn, closing out the 2012 meet 3rd in the standings and in the top 10 at Churchill Downs Spring meet in 2011 and 2012.
Some of the standouts from the Cox barn include Call Pat, who was the 2015 winner of the G3 Groupie Doll S. and the winner of the G3 Bayakoa S. and G2 Azeri S. in 2016. Chocolate Ride is a four-time graded winner, having been successful in the G3 Fair Grounds H. G2 Mervin H. Muniz Jr. H., the G3 Col. E.R. Bradley H., and the G3 Fair Grounds H. Other graded winners include Carve, who took the G3 Prairie Meadows Cornhusker H., Almasty, the winner of the G3 Commonwealth Turf Cup S., and Spelling Again who won both the G2 Chilukki S. and the G2 Princess Rooney S.
Cox is having a standout 2016 season with a career best 117 victories so far this year. The stable has amassed $5,026,359 in earnings through mid-October. Cox resides in Louisville with his wife Livia and their sons Bryson, Blake and Brodie.